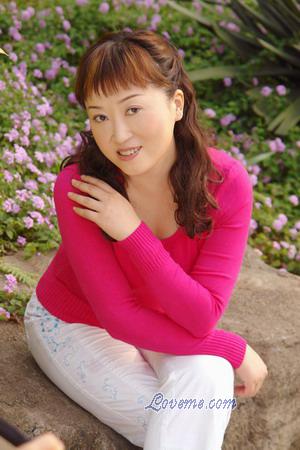 99862
Wenhua
China
City: Guangzhou
Age: 42
Birth Date: 8/31/1967
Weight: 121lb, 55kg
Height: 5'3", 160cm
Measurements:
Measurements cm:
Measurements: 0-0-0
Eye Color: Black
Hair Color: Black
Marital Status: Divorced
Children: 0
Religion: None/Agnostic
Smoker: N
Drinker: N
Education: College
Company: Privately Owned
Job Title: Accountant
Sports:
Hobbies: Walks, reading, travelling


Self Description: I'm a mature woman but I'm younger than my age, with tender and soft skin, average height and beautiful voice. I'm also an optimistic, passionate, traditional, undivided, reasonable and forgettable woman because all my unhappiness will soon go with the wind. I' m prudent and principled but humorous and flexible. I' m longing for a family, where I am able to peace my mind. I hope that the destiny will show me the way to the grassland that belongs to me. On the grassland a table is set, two people sitting silently around the table in the late afternoon of autumn and enjoying the coffee made by hand. Wonderful music is in the deep romance and two souls begin falling in love. We are not young but know how to treasure the life better. And we are destined to grow old together no matter you are rich or not.

Comments: If you are a sincere, simple, undivided, understanding, caring and responsible man, please come to me. Please give each other a chance and let build our happy tomorrow.